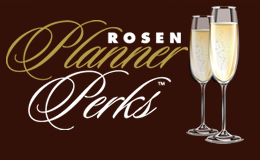 Rosen Shingle Creek is celebrating ten years providing our exemplary standard of service as Orlando's leading meetings and events destination. In appreciation for the years of support from our friends in the convention and meetings community, please accept our gift to you … our 10th Anniversary Rosen Planner Perks. Book and consumer a new meeting now to the end of the year and enjoy special perks, "presents" and more. Let us show you how we've been exceeding planners' expectations for the past ten years. We've got 1501 guestrooms and suites, close to half a million square feet of meeting/event space, award-winning catering services and a glass of champagne waiting for you…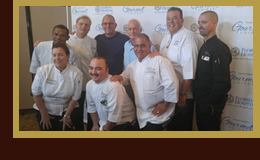 Food Network Star and Celebrity Chef Robert Irvine cooks up some fun with Rosen Hotels & Resorts owner Harris Rosen, Executive Head Chef Jorge Oliveira and his award-winning culinary team at the recent Gourmet Soiree fundraiser to benefit the Florida Hospital Foundation.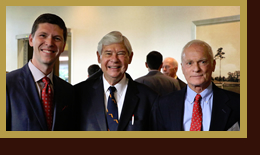 Harris Rosen Named Bob Graham Center Citizen of the Year
Why are we so proud to be associates of Rosen Hotels & Resorts? The reasons are MANY! One universal to us all is the large heart and generosity of our owner Harris Rosen. Through his many philanthropic efforts, he's working to Change the World, One Community at a Time.™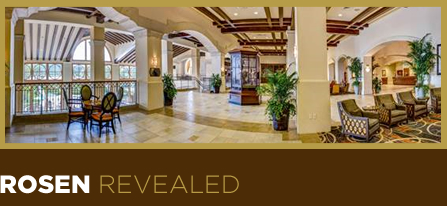 We're pulling back the curtain for Rosen Revealed! We'd love for you to get to know our hotels and incredible sales team. Please check our travel schedule below and let us know if we can stop by for an in-person meeting. Or if you can join us at one of our Rosen Revealed events or trade shows. For more information, please contact our sales team at sales@rosenhotels.com or call 407-996-9939.
Washington, D.C. September 20th
Virginia, September 21st
Chicago, IL November 15th and 16th

IMEX America - October 18th - 20th, 2016, Las Vegas, NV
RCMA Religious Conference Management Association - February 7th - 9th, 2016, Chicago, IL
2016 Collaborative - August 24th - 26th, 2016, New York, NY
Connect Marketplace - August 25th - 27th, 2016, Grapevine, TX